German Strawberry Cake Recipe
Easy Strawberry Flan
I bake this strawberry cake recipe after having been strawberry picking with my two young sons. One of my favourite strawberry recipes, it is known as Erdbeertorte or Erdbeerkuchen in Germany.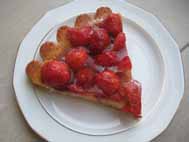 You will find this easy strawberry flan (Erdbeerkuchen) in all the German bakeries during strawberry season and it is a very easy German cake recipe for you to bake at home.
We often bake it to take to a barbecue or to my son's football tournament. It is everyone's favourite during the strawberry season.
This strawberry cake is perfect served with a dollop of thick whipped cream.
Sometimes, as a treat, we cut any leftover strawberries into very small pieces and pop them into a glass of sparkling wine. Lemonade for the boys of course!
Make Easy Flan Case - Tortenboden
The ingredients below are for an easy flan case (Tortenboden), just perfect for your strawberry cake. You might be able to buy a ready made flan case at your supermarket. They are readily available here, in Germany. Great if you are in a hurry.
50g caster sugar plus 2 level tsp
50g flour plus 1 level tsp
2 eggs
225g strawberries, hulled and sliced
3 level tbsp redcurrant jelly

Grease an 8 inch (20cm) raised-based flan tin. Sprinkle over 2 tsp caster sugar and tilt to coat evenly. Add 1 level tsp flour and coat similarly, knocking out any excess.
Place the eggs and remaining sugar in a deep bowl and whisk until the mixture is very thick. Sift the flour over the surface of the mixture. Fold in gently with a metal spoon, then turn into the prepared tin and tilt to level the surface.
Place on a baking sheet and bake in the oven at 180 degrees C for 20-25 minutes until the sponge springs back when pressed lightly. Allow to cool on a wire rack.
Arrange the sliced fruit in the flan case. Put the redcurrant jelly and and 1 tbsp water in a small saucepan and heat gently together until liquid. Cool a little then brush over the fruit.

Fruits In Season
Use fresh raspberries, apricots, gooseberries or black and green grapes instead of strawberries.

Strawberry Dessert Recipes - Strawberry Swiss Roll Recipe, Strawberry Muffins, Strawberry Joghurt Smoothie

Return from Strawberry Cake Recipe to Cakes And Easy Dessert Recipes

Return from Easy Strawberry Cake to Authentic German Recipes