German Maultaschen Recipe
Authentic Schwabian Recipe
Maultaschen is a German Schwabian (Baden-Württemberg) speciality.
They consist of an outer pocket of noodle dough and a filling made of gound meat and spinach.
You will sometimes find people calling them Schwabian pockets; they are also similar to a meat filled ravioli.
It is said that they were invented by monks to conceal the fact that they were eating meat during Lent.

They are traditionally served in a broth with toasted breadcrumbs and parsley or with onion rings. One of my favourite German recipes has to be maultaschen so I felt I had to share this recipe with you. My German mother in law taught me how to make them.  It is rather time consuming but well worth it.  I am sure you'll love them as much as I do.

I would suggest you make a very large batch and freeze them. When your family come home starving hungry, you can whip them out of the freezer and heat them up in a broth for about 10 minutes until heated through. Delicious meat filled ravioli to serve with my German potato salad.
Ingredients To Make
German Maultaschen

3 eggs
pinch of salt
for each egg, half an eggshell of water
360-400g wheat flour

Mix eggs with salt and water. Sift flour into a bowl and make a well in the middle. Break the eggs into it and blend all the ingredients together. Take out of the bowl and then knead the dough on a board until air pockets can be seen when the dough is cut. You can knead by hand or with a mixer.

Depending on the flour, if the dough is too thick add a little water or an egg white. The dough shouldn't be too soft. Form a ball and place on a board. Cover with a cloth and leave to rest. Now you can prepare the filling.
400g fresh spinach
saltwater
20g diced bacon
20g butter
1 small onion, finely chopped
3-4 stale rolls, crusts removed
150g ham or cold meat, diced
250g ground meat (pork or beef)
2-3 eggs
a pinch of salt, pepper and nutmeg
boiling saltwater or meat broth

Clean the spinach well, wash and blanch it briefly in boiling saltwater. Rinse with cold water, let it drain and chop coarsley. Braise the bacon in butter for a couple of minutes, add the chopped onion and spinach and braise for a couple more minutes. Soak the stale rolls in water until soft. Squeeze out the excess water and chop the rolls into pieces.

In a large bowl mix the above prepared ingredients with ham and ground meat. Add the eggs and season with salt, pepper and nutmeg.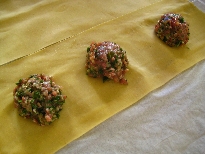 How To Make German Meat Filled Pasta

On a floured surface roll out the noodle dough into rectangular sheets (about twice as wide as you want your Maultaschen to be). Use a tablespoon of filling at equally spaced 3 inch intervals all down the middle of one side of the sheet of dough. Fold the plain half of the sheet of dough over to cover the filling and press firmly on the spaces around the pockets of filling. Use a pastry wheel or cookie cutter to cut into 3 inch squares.

Put them into boiling saltwater or meat broth and let simmer (not boil) for 10-15 minutes depending on the size.

They can be served in broth with toasted bread crumbs and parsley or with onion rings.

Alternatively, slice an onion and fry the rings in butter until brown and serve with the soup.

If there are any left over, they can be used the following day. Cut into one inch slices, fry in fat, add slightly beaten eggs and milk to the pan and cook through. Delicious served with a crisp green salad.

Enjoy this German meat recipe with Kartoffelsalat (German Potato Salad).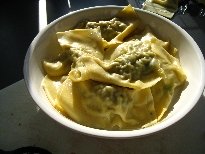 Return from German Maultaschen Recipe To German Meat Recipes

Return from German Pasta Recipe to Authentic German Recipes