German Christmas Recipe
Spitzbuben Cookies
German Cookies Recipe
This is a great German Christmas recipe for Spitzbuben cookies. German Spitzbuben are one of my favourite of all the Weihnachtsplaetzchen. Bake these delicious German christmas biscuits and enjoy throughout Advent.

Strawberry jam or jelly is sandwiched between two crisp butter cookies and sprinkled with icing or powdered sugar.
German cookies, Mmmm utterly delicious.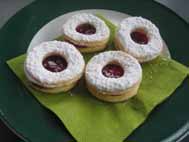 German Spitzbuben

400g flour
200g butter
3 egg yolks
100g sugar
1 packet of vanilla sugar (I normally use Dr Oetker)
finely grated rind and juice of 1 lemon
50g finely chopped hazelnuts
1/2 cup of strawberry jam
1/2 cup of icing sugar

Sieve the flour onto a large baking board. Flake the butter and scatter evenly over the floured surface. Put the egg yolks, sugar, vanilla sugar, grated lemon rind and the chopped nuts in the middle. Bring all the mixture together with your hands and knead into a Mürbeteig (dough). Wrap the dough in aluminium foil or baking paper, and leave to rest in the refrigerator for 2 hours.

Preheat the oven to 200 degrees C. Take small portions of the dough and roll out thinly (to approx 1/4 to 1/8 inch) on a floured surface. Take a cookie cutter and cut out equal numbers of plain fluted cookies and fluted cookies with a hole in the middle.

Bake both types of cookies on a baking sheet in the middle of the oven for 10 minutes. They should be golden yellow, not brown and burnt! Remove the cookies carefully with a knife and leave to cool on a wire rack.

Mix the strawberry jam with the lemon juice. Sieve icing sugar over the cookies with the holes in. Spread the jam evenly over the round fluted cookies and then place a cookie sprinkled with icing sugar over the top and carefully sandwich together.

Bake my German Christmas recipe in plenty of time to enjoy during Advent. Invite your friends and surprise them with original Kleine Spitzbuben. Alternatively, they make a lovely Christmas gift wrapped in a festive Christmas box and tied with ribbon.

Have a lovely Christmas!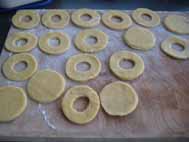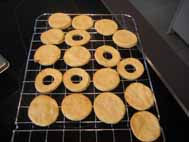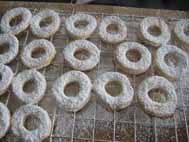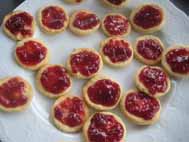 Return from German Spitzbuben Cookies With Jam to German Cookie Recipes

Return from German Christmas Recipe Spitzbuben Cookies to Christmas in Germany
Return from German Christmas Cookie Recipe With Jam to Authentic German Recipes Home