German Bee Sting Cake Recipe

Bienenstich Kuchen

I have had many enquiries for a German bee sting cake recipe, so at last, here it is. I hope you enjoy this rich German cake recipe as much as I do.

It is one of the more time consuming German cakes, but well worth the effort. My Bienenstich Kuchen will serve 20 people, assuming of course, that they only eat one slice each. I have also used a cream cheese filling instead of the original vanilla pudding. However, you can also use a pack of vanilla pudding (I normally use Dr Oetker) if preferred.
So put on your apron and start baking this delcious honey and almond cake.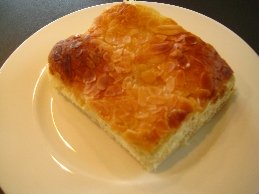 German Bienenstich

500g flour
1 cube (42g) yeast
50g sugar
220ml lukewarm milk
1 egg, 50g butter, 1 pinch of salt

For the caramel topping
100g butter, 150g sugar
200g sliced almonds
100g cream

For the filling
3 leaves of gelatine
600g cream cheese
125g honey
150g yoghurt
50ml orange juice

Additionally
flour for rolling
greased baking tray
100g apricot jam

Sieve the flour into a bowl and make a well in the middle. Break the yeast in the middle and add the sugar and milk and stir. Cover the bowl with a clean tea towel and leave to rest for 15 minutes. Then add the egg, butter and salt and knead well. Leave to rest for an hour.

Meanwhile lightly caramelise the butter, sugar and sliced almonds in a pan. Then add the cream. Knead the dough mixture once more and roll out on a floured board to fit a greased baking tray or cake tin. I normally use a baking tray so that I can cut the cake into squares. Leave to rest for 15 minutes. Then spread the caramel mixture over the dough.

Bake in a preheated oven (180 degrees C) for about 20 minutes. Leave to cool.

Soak the gelatine. Mix together the cream cheese, honey and yoghurt. Squeeze out any excess water from the gelatine and dissolve in hot orange juice and then quickly stir into the cream cheese and yoghurt mixture.

When the cake has cooled, slice in half crossways to make two layers. Place the bottom layer cut side up on a cake plate and spread with the filling. Top with the second layer with the honey and almond glazed side up. Heat the apricot jam with a little water and spread over the top.

Refrigerate until ready to serve. Cut into rectangular pieces and enjoy on its own or with thick whipped cream.

I hope you and your guests enjoy my German cake.


Return from German Bee Sting Cake Recipe to German Easy Dessert Recipes And Cake Recipes

Return from German Bee Sting Cake Recipe to Authentic German Recipes