German Pancake Recipe
German Pancake Soup Recipe
An easy to make German pancake recipe. It is a pancake soup recipe made with pancake strips known as Flaedlesuppe.
Quite often this German pancake soup is served as a first course at a wedding in Southern Germany. My mother-in-law gave me this recipe and I have been making it ever since. Needless to say, we love it, our kids love it and you will too!
You can use stock cubes for the broth if you are feeling lazy. But try and make your own stock or broth if possible as the flavour is much nicer. Another great thing is that you can make the pancakes in advance and freeze them for another day.
Enjoy my traditional German pancake recipe and enjoy another tasty German food recipe.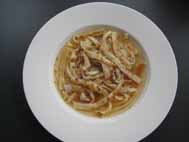 Flaedlesuppe

150g wheat flour
1/4 litre milk
1-2 eggs
pinch of salt
1 litre of good meat or vegetable broth
a bunch of chives
oil for greasing
Mix together flour, eggs and salt in a large bowl. Then gradually add the milk, stirring all the time until smooth, but not too thick. If you stick to these steps you will avoid annoying lumps in your batter. Heat a heavy non-stick pan or skillet and add a tiny drop of oil.
Once hot, pour a ladleful of batter into the middle of the pan and move the pan swiftly until the batter covers the pan. Flip or turn your Flaedle once the bottom side is golden brown. Do so until all the batter is used up. Cool pancake. This is very important, do not put hot pancakes into your hot stock or broth! They will fall to pieces and form a gooey mess.
Once cool, cut in half and then again into thin strips. Lay in very hot broth and serve immediately. Sprinkle with cut chives.
Flaedle
Flaedle are one part of the Swabian wedding soup. Depending on the region semolina balls, beef marrow balls and sausage meat balls or liver dumplings, little stuffed noodles (Maultaeschle) or baked small dumplings (Backerbsen), cooked-egg garnish and liver spaetzle (Leberknoepfle)are added. In earlier times the orders of the Sovereign also restricted the number of courses served at baptisms and weddings, the single courses were made especially generous - hence the many different dumplings in the wedding soup.

Return from German Pancake Recipe to German Soup Recipes

Return from German Pancake Soup Fladlesuppe to Authentic German Recipes Home