Easy German Apple Cake Recipe
Versunkener Apfelkuechen
An easy German apple cake recipe from my mother-in-law. The easiest moist apple cake recipe you'll ever bake!
This is such an easy cake recipe that even your husband can bake it! You basically mix all the ingredients together, press the apples into the mixture and pop the cake into the oven.
This apple cake recipe has saved us on many occasions when a quick cake is needed. For when friends come over, unexpected visitors for the weekend, for my son's football tournament, the school fete, this cake has been baked many a time.
If you are inundated with apples, this is the cake for you! Pears also taste nice.
Around Stuttgart, the area where my husband originates from, apple orchards are in abundance. My father-in-law has his own orchard so this really has become one of our favourite apple cake recipes.
It is also a great cake to freeze, either as a whole cake or in slices.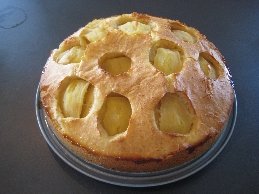 Versunkener Apfelkuchen
"Sunken Apple" Cake

250g plain flour
200g sugar
125g soft butter
3 eggs
1 pack vanilla sugar (I use Dr Oetker)
pinch of salt
1 1/2 teaspoons baking powder
1-2 tablespoons of milk
2-3 apples sliced
Preheat oven to 180 C. Prepare and grease cake tin. I normally use a 28 cm (10inch) round cake tin.
Mix together all the ingredients apart from the apples. Pour the mixture into the cake tin and smooth the top until flat. Push the apple pieces gently, at random, into the cake so they sink slightly into the mixture.
Bake in the oven for 25 minutes. Turn off the oven and let it rest in the oven for 10 minutes.
Test whether the cake is cooked through by piercing the centre with a toothpick. If it comes out clean then the cake is done.
Let the cake cool.
Cake Decorating

You can enjoy this cake as it is or ice it with one of my icing recipes or cake frosting recipes.I have often used this cake recipe for Versunkener Apfelkuechen and decorated it for a birthday or other special occasions.

More Apple Dessert Recipes

Apple Pancake Recipe

Applesauce Cake Recipe

Apple Strudel Recipe

Easy Bread Pudding Recipe - German Ofenschlupfer

Baked Apples Recipe - German Bratapfel

Return from German Apple Cake Recipe to German Easy Dessert Recipes

Return from Easy Apple Cake Recipe to Authentic German Recipes